Questions:
1. For Mother's Day I spent most of it at my in-laws' house. At around 9:30 Noah and I met Juliette at Ihop for a wonderful brunch. I had blueberry Belgian waffles. The three of us had a nice time together. Later, Juliette and I went to a Mother's Day bowling tournament. That was fun, laughing with her and her friends. Their moms, too. Juliette won $5, and I bought an order of Tater Tots. We made it to 6 pm Mass about 1/2 hour before it started. It was a busy but fun day.
2. What is your favorite dish that your Mom makes? My mother was the Queen of scalloped potatoes in our family. She always wished she could make meatloaf and complained that hers always fell apart. So, instead, she made the potatoes and my aunt made the meatloaf. However, to be honest, something I remember fondly was the "potato doughnts" she made in the deep fryer the year our kitchen was being remodeled. I don't know where she got the recipe or why she decided to make them, but the memory of those days "smells" like deep fried doughnuts to me.
3. Who are you a "Mom" too? – Juliette and Noah!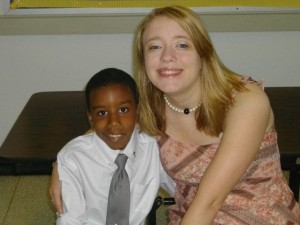 4. What did you have for Mother's Day dinner? – We had chicken, backed potatoes, green beans and salad.
5. What is your fondest memory of your Mom? – I remember coming home from the Army, very self-centered, and seeing that Mom and Dad weren't happy. Dad was getting sick with his Polycystic Kidney Disease, but they didn't know it yet. Anyway, in my self-centeredness, I asked her why she didn't leave him. She said, "You don't leave just because things get bad. Marriage is forever." It was one of the best, most important lesson she every taught me.
Check out Never Growing Old and join the Meet Me Monday!