My Pampered Chef Lasagna Experiment
Recently, I got the Pampered Chef Brownie Pan.

I absolutely love it, and not just because you can make these:
These are super easy – place and bake cookies (two squares per pan space) pressed into the bottom, topped with a mini peanut butter cup (or an Oreo) and then a spoonful of brownie mix. Bake for 25 minutes (or so, check to make sure they're done), and voila, sinful, evil brownies!
After two batches of those, my husband said, "Maybe you could try something a little less unhealthy."
I found a recipe for mini lasagnas, but it required no boil lasagna, which I couldn't find in our store, so I made something up.
First I cooked a box of pasta. I picked the bow ties ones because I thought they were more like lasagna and I thought they would take up less space, but as it turns out, you could use any pasta you like. Okay, maybe not spaghetti or manicotti, but you get my meaning.
I also browned a pound of ground beef.
Then I poured a little (no measuring, just eyeball it) spaghetti sauce in the bottom of each square, put a few pastas on top, and then some of the ground beef.
I mixed some low fat cottage cheese, a package of shredded Italian cheese blend, some herbs (oregano, basil, parsley, thyme – again, no measuring, just some) and spooned some over each square.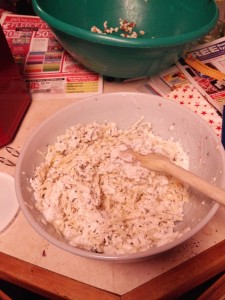 I had more than would fit into the pan so I put the rest, in the same order, in the round covered baker, also by Pampered Chef.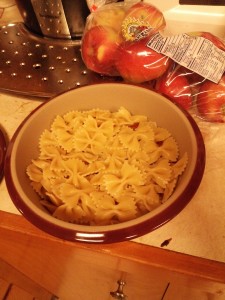 I stuck it all in a 350 degree oven for 25 minutes, and the family loved it.