Today is my 50th birthday and while a month or so ago, that number bothered me a lot, today I am probably one of the happiest women on the planet!
My family threw a surprise party for me last night at a local steakhouse/buffet restaurant. And it was very sneaky the way they did it.
I've been hinting, or actually blatantly telling my husband, that I wanted a party for this birthday. I never get parties, but as this is my 50th, I told him it was a big number so it deserved a party.
Well, he never made any comments about it or asked me where I wanted a party or who I wanted to have there or anything. In fact, he would joke that we could go out to Chick-fil-a for dinner!
As the days and weeks passed, I kinda went back and forth in my head about whether I thought he was planning anything or not. Nothing really seemed to indicate it. He was busy with work and actually forgot his parents' anniversary which is Valentine's Day and didn't get me a card or anything, so I figured if anything, he barely remembered to get me a gift until the last minute. My daughter told me she'd gotten my gift a long time ago.
Well, a few days ago, he asked me if I thought going to Ryan's would be okay. As he'd saved coupons from a mailing, I said I knew that's where he wanted to go.
The plan, as far as I knew, was to go out TONIGHT!
Then, yesterday, my daughter called from college and said she just found out that her psychology test was tonight at 5:30 pm. I was a little disappointed but said, well, we can go out some other time. I IMed my husband and he said, "Wait. Tomorrow is your birthday. Well, what if we just go out tonight?"
I said sure that would be fine. He IM'd me a few minutes later and said it was all arranged.
I knew then there was no party because he couldn't just call everyone (whoever they were) and have them all change their plans at the last minute like that.
However, turns out it was always supposed to be last night and her psychology test is tomorrow afternoon anyway! I thought that's what she'd told me but figured she made a mistake.
There were people from the church choir and my writers' group and even my Stampin' Up lady was there! I was very surprised!
Here's my cake.

Me opening the gift of a woman who couldn't stay to eat with us. You can see some guests in the background. Her gift was a lovely picture frame.
Reading the card that went with a handmade beaded bookmark from a writer friend.
Showing off the bookmark. The cute little boy shoving bread in his mouth is, of course, my son.
A lovely orchid from a friend my husband works with who is also a fellow Guild Wars gamer with us.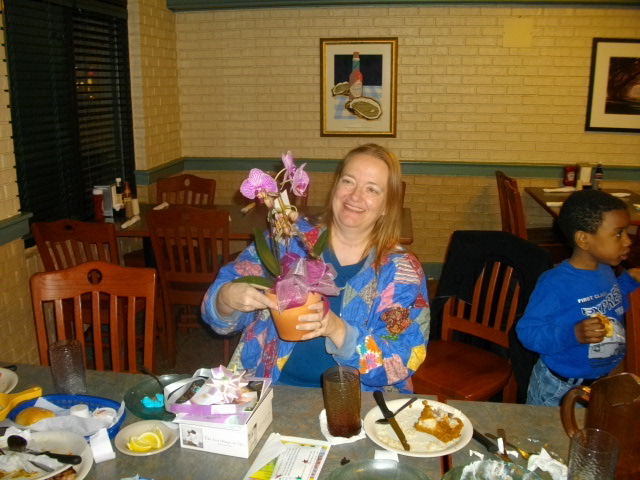 My writer friend Arlene gave me a "Writer's Block" journal. The guy in yellow is my Beloved husband.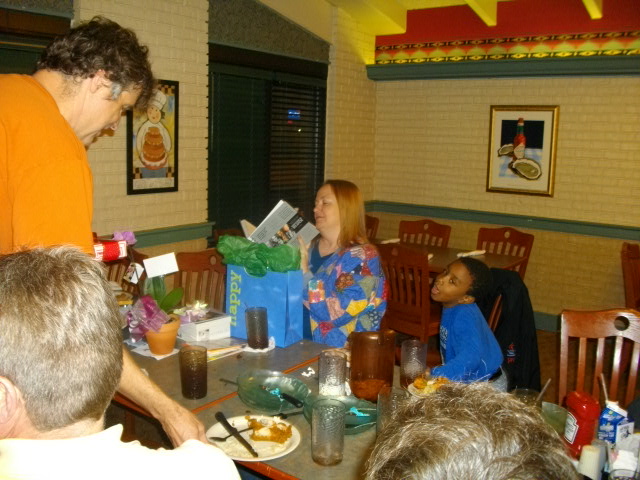 Another choir friend and his family gave me a quill fountain pen set!
I guess I liked it.
With most of my stash:
Lovely jewelry from my good friend Sharon and her family:
My family gave me a card that said that my gift from them was a night at a bed and breakfast (with my husband of course) and babysitting from my daughter!
It was a wonderful night!
Now onto the freebie.
I had so much fun making this add-on for my Tweeny Girl kit, I almost didn't stop, so you get several goodies. Remember, stop by any of the stores to the right to pick up the full matching kit.

Click here to download.
I'd love to hear what you think and see what you did with it!