Finally, I have a new laptop, AND I can get my old hard drive from Best Buy this weekend.
In the meantime, I'm posting a special Getting to Know you. Cathy Bennett Lascow has been more than patient with me as I deal with my own procrastination issues, illness, computer troubles, etc. Anyone else would have written me off, so today, she finally gets her moment in the sun.
Catherine Bennett lives in her home state of Ohio. Her first book, "The Trouble With Charlie", and her newest release, "Devon's Choice" is published by Astraea Press. Catherine has two grown sons and resides with her husband and two Labrador retrievers.
Social Media Links:
Website: catherinebennett.org
Facebook: https://www.facebook.com/AuthorCatherineBennett
Twitter: author_cbennett
Interview questions:
Top five favorite movies or books:
The Lord of the Rings trilogy (movies)
The Hobbit trilogy (movies)
Sherlock Holmes (movie)
The Chronicles of Narnia (books)
Any Agatha Christie mysteries
In 5 words, please describe your "Romance Writing Style."
Descriptive
Contemporary
Clean
Poignant
Humorous
What is your "girlie girl" thing? I.e. getting your hair done? Nails? Shopping? Gossiping? Chick flicks?
Shopping
This or That:
~ Perfume or Jewelry?
Jewerly
~ Tall or Dark or Handsome?
Handsome
~ Romantic Dinner at Home or Out?
Dinner out (I'm not much of a cook)!
~ Roses or Lilies?
Roses
~ Diamond or Emeralds?
Diamonds
Do your leading men come from any place in particular? Dreams? Movie stars? Your partner? Past partners?
In both of my books, the inspiration for the hero came from celebrities.
If your sweetheart wanted to sweep you off your feet, what would they need to do?
Take me out to a delicious dinner and then shopping.
What do you do in your down time?
On my computer, reading, going out for coffee, or taking a nap!
When you go to Starbucks or Jamba Juice, what do you order?
A tall vanilla latte
When you walk into a book store, where do you head first?
I like to browse through the new release section.
If we sneaked a peek in your purse right now, what would we find?
To-do lists
Pens
Assorted lip balms
Old receipts
In 4 words, describe yourself.
Creative
Procrastinator
Friendly
Forgetful
Dog-lover
Top ten snacks while writing:
Hershey bar
Coffee with cream and sugar
Potato chips
Banana
Trail mix bar
Cashews
More coffee!
Crackers
Cheese
More chocolate!
Catherine's newest book is Devon's Choice.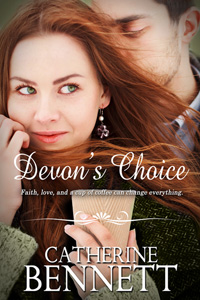 Blurb:
Faith, love and a cup of coffee, can change everything.

Life holds no surprises for Devon Murphy. Her life consists of keeping tabs on her aging Irish father, working part time at a coffee shop, and building her online graphics design business. Devon's only tricky situation is a shallow relationship with the pampered and affluent Michael Turner, who sees her as just another woman to conquer.

Following his father's death, Brandon's only goal is to expand the family business and live life on his own terms. That is, until he walks into the coffee shop one snowy evening and meets the enchanting, red-haired barista behind the counter. But can Devon and Brandon's attraction for each other be strong enough to help erase their deepest disappointments and renew their faith in God?
Excerpt:
Devon complimented everything he'd cooked and commented on his expertise with the barbecue. Brandon nodded, chewed and considered the way the edges of her mouth crinkled at the corners when she smiled and how she'd look up and away before answering a question. This woman across from him was the same one that he'd known for the past several weeks, but now he felt like the Grinch whose heart grew two sizes in one night.
Cathy has a video trailer for her book:
You can get Devon's Choice at these fine retailers:
Amazon: http://amzn.to/1AMhNfY
Barnes & Noble: http://bit.ly/1xkWZaw
Smashwords: www.smashwords.com/books/view/510322
Kobo: http://store.kobobooks.com/en-US/ebook/devon-s-choice
Thanks, Cathy, for stopping by! Sorry it took so long to have you here.