So, we're a little late today, mostly because I have been a bit of a mess with family visits and my husband traveling all over the world this summer, leaving me as a single mom.
Today my guest is Susan Dulin Rush.

Susan grew up in Charlotte, NC and has a psychology degree from Furman University and masters in social work from the University of South Carolina. She jokes that God didn't lead her to a career in hospice; He took her kicking and screaming the whole way. Now passionate about end-of-life care, she has worked with terminally ill patients and their families for over twenty years. Susan loves sharing about God's redemptive grace and unfailing love in the midst of pain and sorrow. She presently serves as a hospice director and lives in Columbia, SC with her adorable hubby and three phenomenal children.
Susan was nice enough to answer my crazy interview questions.
Top five favorite movies or books:
Hitch, The Notebook, Up, Letters to Juliet, Hunger Games
In 5 words, please describe your "Romance Writing Style."
Clean, inspirational, twists and turns, suspense, triangle
What is your "girlie girl" thing? I.e. getting your hair done? Nails? Shopping? Gossiping? Chick flicks?
fancy chocolate desserts
This or That:
~ Wine or Beer? neither, fruity, prissy drinks like daiquiris
~ Sex in the City or Caroline in the City? Sex in the City
~ Perfume or Jewelry? Perfume
~ Painted nails or Au Natural? Au Natural
~ Tall or Dark or Handsome? Handsome (but I prefer all 3)
~ Romantic Dinner at Home or Out? Out (hands down)
~ Roses or Lilies? Roses
~ Diamond or Emeralds? Emeralds
~ Pirates or Ninjas? Pirates
Do your leading men come from any place in particular? Dreams? Movie stars? Your partner? Past partners?
Nope, just in my little mind, so I guess daydreams.
If your sweetheart wanted to sweep you off your feet, what would they need to do??
Foot massage followed by a tender back massage while telling me how awesome I am.
Do you ever daydream about people you see at the park? Airport? Train station? Mall? And build romance scenes around them while you daydream?
Great question! And yes, all the time. I'm constantly asking my daughter questions like- Wonder why a man his age is working nights as a hotel receptionist? Why is such an articulate woman a bus driver? Then I create their back story.
What do you do in your down time?
Write my sequel and research marketing my book (Like most new authors I have a full time job, kids, etc, etc so down time is not really down time.)
When you go to Starbucks or Jamba Juice, what do you order?
Hot chocolate from Starbucks- I hate coffee and don't love juice. Coke Zero is my poison.
When you walk into a book store, where do you head first?
Best Sellers
If we sneaked a peek in your purse right now, what would we find?
wallet, lip gloss, business cards, small weight loss journal that's only been written in once several weeks ago.
In 4 words, describe yourself.
caring, capable, driven, sarcastic
Top ten snacks while writing:
Let's see, anything chocolate (that's why my weight loss journal is blank) M&Ms, Rasinettes, York peppermint patties, Reese's, Snickers, Milky Way, Rolos, chocolate covered pretzels, that's all I got.
Thanks, Susan! Great answers. Readers, Susan is here to tell you about her new book, Just Over the Horizon.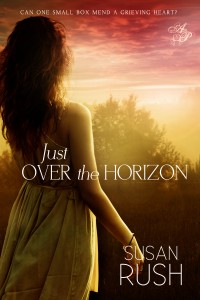 Blurb:
While grieving the death of her eccentric nana, Sarah discovers an unexpected gift. She soon grows dependent on the heirloom, a little box, for comfort and guidance. Feeling restless and needing a change, Sarah accepts a job as a traveling hospice nurse and ends up in the quaint, historical town of Camden, South Carolina. Although she loves caring for her patients, loneliness creeps in and threatens to take root. Eventually she opens herself to new friendships, and two remarkable yet vastly differing men compete for her attention. Nate is a true Southerner with a sarcastic wit and genuine warmth, while Dr. Joseph Thornton is a caring oncologist who is known as the best catch in the state. 
     Facing heart-wrenching trials, the faith of her childhood is all but shattered. In spite of this, Sarah seeks comfort from her box and is determined to cling to Nana's godly legacy. But when a mysterious stranger appears with devastating news, can her cherished box continue to provide answers or will Sarah realize her life has been based on nothing but lies?
Available at Amazon.
Susan can be found online at the following places:
Website: SusanDRush.com
Blog: oodlesofgrace.blogspot.com