Okay, so there isn't actually film. I'm sitting in the lobby of the Dolphin hotel on the Disney World Property. One thing you can say about Disney. They're subtle.
This has to be one of the most OVER THE TOP lobbies I've ever been in. Okay, so I'm not a huge world traveler and I haven't been in tons of fancy hotel lobbies but this amazes me. I'll try to get a picture of what blows me away.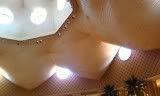 This is the ceiling of the lobby. My roommate and I discussed whether this is actually fabric, which is what it looks like, or if it's concrete made to look like fabric. Given that it's Disney, it could be either and either one would be amazing and totally over the top.
That's what I love about Disney. It's super big and the detail is…wait, did I say amazing?
I'm here because Romance Writers of America is holding their annual conference here. This is the conference that was supposed to be in Nashville and one I saved up for two years to attend because Nashville is a doable drive from my house. However, our hotel was flooded and with in a week, the conference was moved here.
Orlando is less of a fun drive, but actually yesterday wasn't bad. My friend Lynn is with me, although she isn't really interested in writing romance. She's a screenwriter and copy writer and probably won't renew her RWA membership next year.
Still, though, the drive went by fast enough that it didn't feel like 11 hours, not counting stops.
We got in around 7 local time, checked in and got up to our room, which has NO view unless you count the air conditioning units! Also, the light above my bed doesn't seem to work, which I need to talk to guest services about. But, you know what? I'm not here for the room. I'm here to absorb as much writing energy as I can and meet people and network and learn!
I know I'm more excited to be here than Lynn is and I think I'm okay with hanging out alone, but I really wish someone would talk to me!
When I came to this conference in 2006, I felt very much out of the loop. Everyone seemed to know other people and groups congregated together. It seems to be a little that way this year, too. I guess that's to be expected. Some people come every year and have LOTS of writing friends. All, or most, of my writing friends are just online friends that I've never actually met in real life. I'm hoping to do that here, at least a bit.
I'll try to keep you posted on my doings. Back to work, writing, and trying to look approachable.