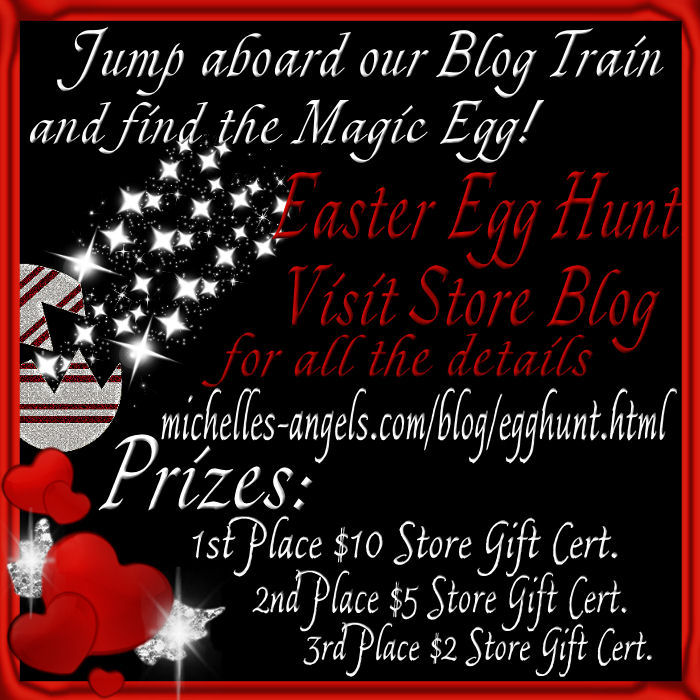 Rules for the Easter Egg Hunt
1. Visit each participant to receive their portion of the the Easter Blog Train.
2. Make sure you leave some luv when download *LOL*
3. Unzip all your new goodies and look for the Magic Egg.
The Magic Egg has been randomly placed in 2 of the zips. One egg will contain a coupon for $2 off a $10 or more purcase at Michelles-Angels store.
The other Magic Egg will contain a coupon for 20% off your entire purchase at the store. *Only one coupon redeemable at a time* Coupons has no limit on how many times you may use it until June 1st.
4. Make a purchase using one of the found coupons!
*BONUS*
Make a LO or Tag using items from the Blog Train and post your creation in our Gallery, in the folder Called Easter Egg Hunt Contest, between May 1st and May 20th. BE SURE to credit the designer(s) who created the items you use!
Beginning May 21st we will be voting for the top 3 layouts. Register in the forum to vote for your favorites.
*PRIZES*
1st Place – $10 Store Gift Certificate
2nd Place – $5 Store Gift Certificate
3rd Place – $2 Store Gift Certificate
Blog Train and Contest will run April 1st thru May 31th. Winners will be announced on the Store Blog on June 1st.
Here's my contribution. I call it Easter Dress because the colors just said that to me. I hope you like it. Download links are at the end of this post.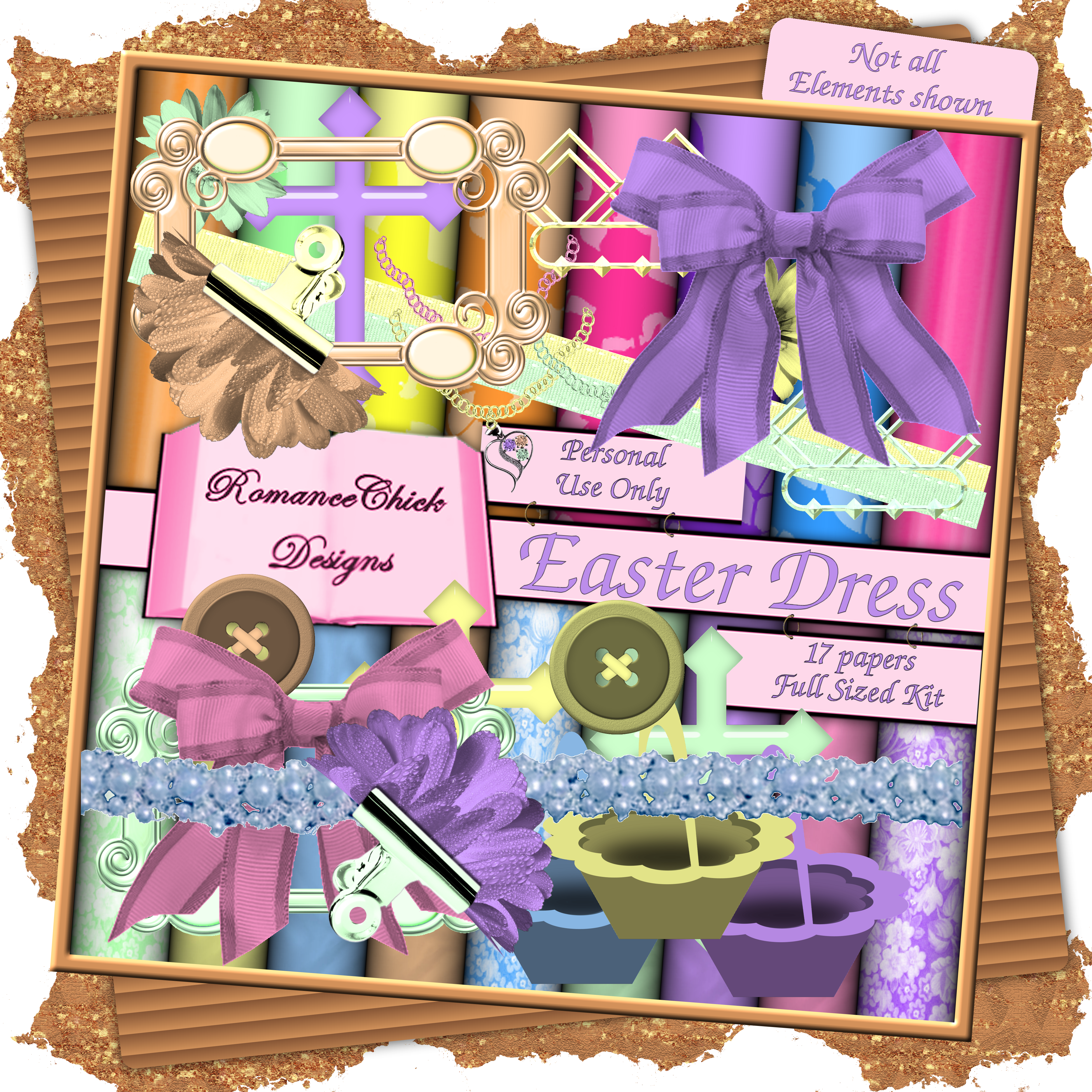 Don't forget to visit all these places and say hi!
1. Store blog
2. Michelles-Angels
3. MoveFearlessly Designs
4. JIC Creations
5. Digiscrapations
6. Baby Cakes Scraps
7. Lady Snowflake's Designs
8. Scraps and More by Ginavere
9. Mystical Designz
10. Lady Saphira
11. Throwing Some Scraps Around
12. RomanceChick Designs – YOU ARE HERE!
13. Kathy Count
14. Zee's Designs
15. Eclipse's Creations
16. Digi Cyber Scraps
17. Eye Opening Designs
18. Nip's Creations
19. AngLaRue Creations
20. Desert Bloom Designs
21. Elegant WordArt by Bethany
22. Foxylady Creations
23. CandysTreasures
24. Tootlebugz
25. Lei
26. Tiffany's Treasures
27. DebsDesign
28. Katzscrapz
29. Oase
30. Designs by Teri
31. PSP Scrapper
32. JTsDesigns
33. Liv Luvs Scraps
34. MJH Designs
35. jbs2designs
36. Lindas Dream Designs
37. A-Design by Lena
38. Lorri's Scraps
39. All Things Digi
40. Becky's Scrap Freebies
41. Scrappin with Lil Ole Me
42. Muriel's Scrapbits
43. Digital Scrap Fun
44. Our This – N – That
45. DazzlingScraps
46. Candie's Creations
47. Munchkyn Scraps
48. Maggies Scrap
49.TaggingAngelsNScraps
50. Crafty Scraps
51. Marian