A couple of the comments I got on the chef tote show some misunderstanding as to how big these little totes are. It's hard to show in the picture, but they are made out a 8 1/2 x 11 sheet of card stock so they're only about 4 1/2 inches high, not counting handles. So, while they are cool and fun to make, they really aren't designed to take to the mall to bring home your goodies! Unless, of course, you're only buying earrings or maybe socks!
Here's one I made for my son. I'm going to make little Valentine's Day gifts for each of this classmates and I think this will cute for him to carry them in. The tag has two stamps – one is a swirly lollipop with "Sweet Stuff" under it. The other says "Nothing's better than a good friend with chocolate." Both are Stampin' Up! stamps. I'll scan and show you the gifts I make for the class.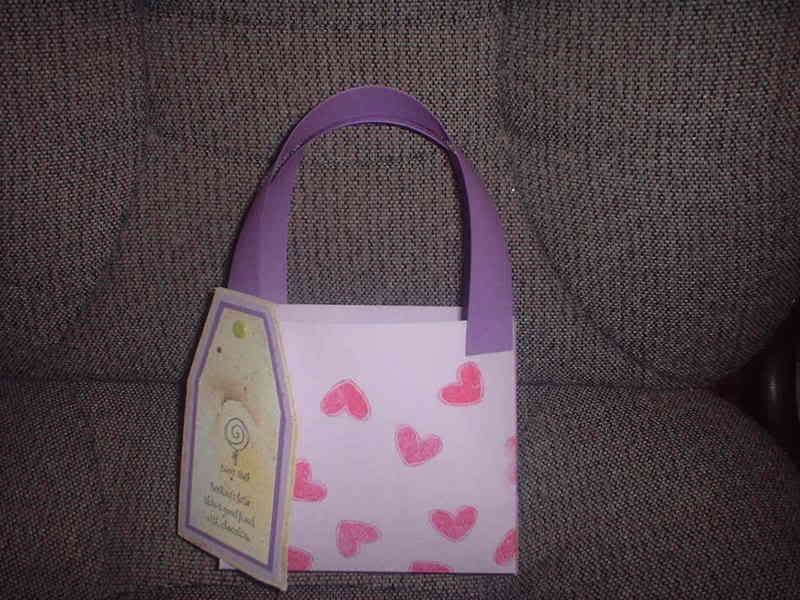 This care is one I made just for fun, but decided to send it to a friend in PA, Karin, who's been going through a tough time with her husband who is probably going back to Iraq. The word stamp is the same as the one above. The cup of hot chocolate and the marshmallows is from the same set, Like it a Latte. The butterfly is from a SU! hostess set called Reason to Smile.
This card is made with the Reason to Smile set only. It's for a card swap I'm taking part in.