Why would I think that, you ask. After all, I am the perennial hostess of the Heart of Louisiana's annual Readers' Luncheon.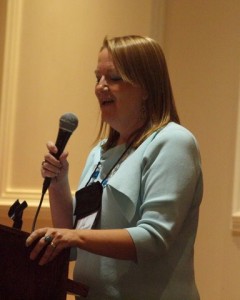 Well, recently, two things happened that make me question this.
About a month and a half ago, I had an appointment with my pain doctor to get my meds refilled. I do this every three months and the actual appointment takes about 10 minutes. I went into the office, checked in, paid my co-pay then sat down with my computer to work. It was NaNoWriMo, after all.
After some time had passed, I noticed that everyone who had been in the waiting room when I got there had been called in and left. This is an office with about six or eight doctors and PAs, so it didn't really mean anything. However, I heard people checking in with my doctor's PA, who I was there to see. I had heard that they were all running late, so I didn't really think too much about that either.
Until I noticed that I'm just about the only person in the waiting room and nurses are going to lunch.
A couple came in – a husband pushing his wife's wheelchair. They checked in for my doctor's PA and were taken back almost instantly.
At that point, I went to the receptionist and said, "Can you tell me how much longer it's going to be? I've been waiting an hour." She looked me up on the computer and asked if I'd paid my co-pay. I told her I had and she went back to where they keep the files of the patients for the day. She pulled mine out, typed a few things on the computer, left to ask someone a question then said, "It'll be just a few minutes. They're going to call you soon."
When I finally got called back the nurse apologized, and then the PA told me that if she'd known I was waiting she would never have taken a patient who checked AN HOUR LATE! "I'd have made her little behind make a new appointment!" She apologized again because I was only there for a prescription refill and should never have had to wait.
On the way out, another nurse said, "I'm so sorry you had to wait. It's being taken care of."
Now I don't know what that means, but I think someone was in trouble!
Now today, I went shopping with my in-laws. My sister-in-law and her husband are here for the holidays and she wanted to go to Sephora with my daughter and myself, but in reality, it was everyone in the family, except my husband who was at work.
We went to lunch at a fairly nice restaurant near Sephora, and since it's Friday, I ordered a flatbread Margherita Pizza and salad. The food took a while to come, and when it finally did, everyone got served except me. I figure the waiter couldn't carry everything. After all there were seven of us, but usually in that situation, someone else brings the rest.
But it didn't come. The family has started eating and we had to flag down a waiter because we needed a few condiments for a burger someone ordered. That didn't come for a while, either, so my sister-in-law's husband went to the hostess and expressed our irritation at the situation. Finally, he got his condiments and I asked the waitress where my food was.
"Oh, it's right behind me."
Another five or so minutes later, she brought it and said, "Shall I put it in a to go box for you?" The rest of the family was still eating!!!
I told her I wanted to eat my lunch. Needless to say, my food was taken off the bill and there was no tip.
See? The evidence is irrefutable.
I'm invisible!