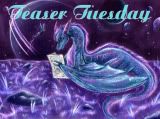 Today's Teaser is going to be short because I got the proofs back for Sword & Illusion (YAY!), my mother-in-law and I are headed to a spa for two hours of wrapping/detox (I've never done this before so it should be interesting), and I need to get ready to head to Deep South Con in Huntsville, AL tomorrow.
Moonrazer shook her head and focused on the play.
She watched as one of the Sisters, dressed as herself, tromped out on to the stage and crawled across the set as though climbing the ice mountain. She paused on a rock and panted from her obvious struggle to get to where she was.
The Exalted Warrior narrowed her eyes. What was going on here? Yes, she had climbed the glacier, but she hadn't been under such a physical strain. Younger then, she had been in excellent condition.
"What happened to your concern for accuracy? Much happened before I got to the mountain," Moonrazer said to her sister. "What about the children of Morovan?"
Whiteshadow waved her hand. "I could not put your entire life story in this. Would that be fair to the other Exalted Warriors?"
"The ones who are dead?" Moonrazer asked. "I do not believe they would feel slighted if you had included how I saved the stolen children."
Hope you enjoyed that!
I'm going through S&I today, looking at words I overuse. Glance is one, as is sigh. Writers, what words do you find you over use?